Build quality
We aim to lead the industry in quality standards. We invest in training and process improvements to ensure consistently high standards and we reduce quality issues through inspections throughout the build process.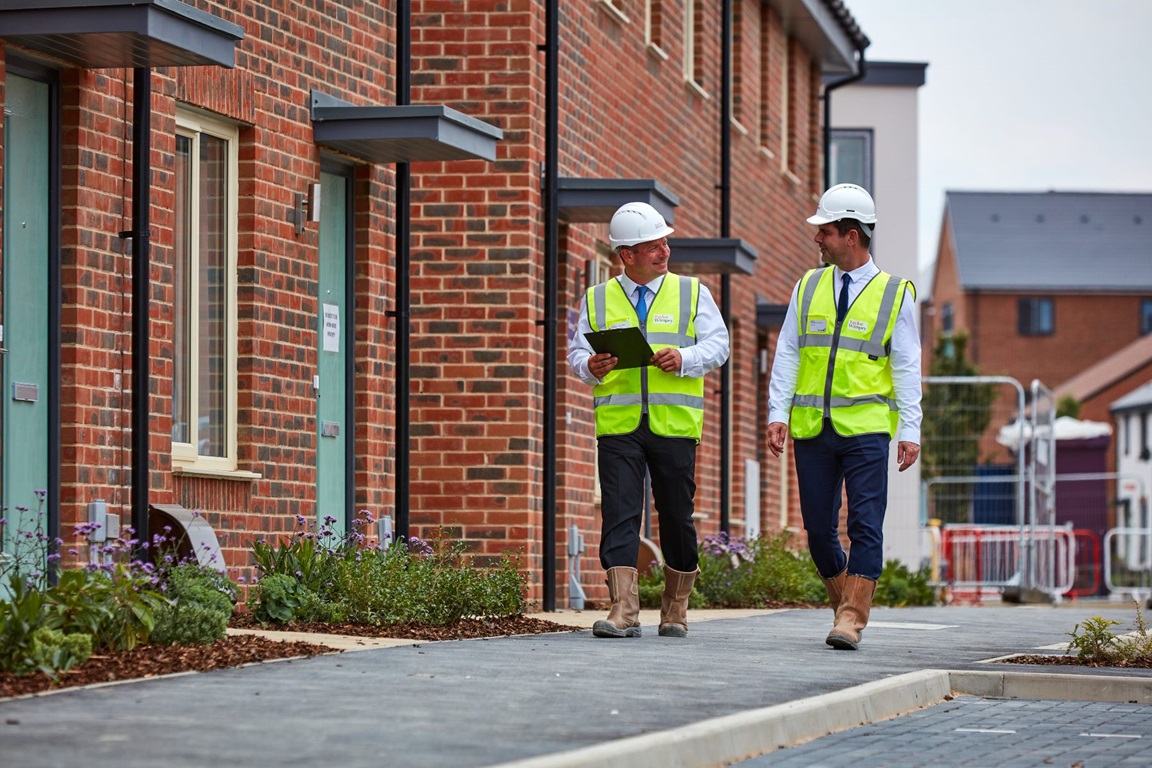 Our quality processes cover both the homes we build and the products and materials used to build them.
We aim to lead the industry in quality standards. We invest in training and process improvements to ensure consistently high standards and we reduce quality issues through inspections throughout the build process.
Getting things right first time reduces costs and is important from an environmental perspective as fewer mistakes mean less waste, fewer deliveries to site and homes that perform to the energy-efficiency standards we expect.
How are we rated?
The independent NHBC CQR score measures build quality at key build stages. In 2022, our average score was 4.81 (2021: 4.67) compared to an industry benchmark group average of 4.6 (2021: 4.43). We met our target to achieve at least a 4.1 rating in each regional business and 93% of build stages scored at least four. We rank first nationally against housebuilders that have more than 100 build stages (which excludes self build and very small housebuilders).
Our approach was recognised by the NHBC Pride in the Job scheme which celebrates the role of site managers in building high quality new homes. The results are based on independent site inspections. We received 62 Pride in the Job Quality Awards, 15 Seal of Excellence Awards and 3 Regional Awards.
Roles and responsibilities
Build quality on site is overseen by our UK Head of Production, who works closely with our Group Customer Director. We have recruited Quality Managers across the majority of our regional businesses. They work closely with Production Directors, Customer Directors, site teams, contractors and suppliers to review performance and address quality issues. Our Group Management Team (GMT) of executive leaders overviews progress on our quality standards and quality KPIs. This includes a monthly review of progress at sites with quality improvement plans.
Our technical, safety and procurement teams review the quality of products used to build our homes.
Incentivising performance
Quality and customer service are incentivised from the top of the organisation, and linked to a significant portion of our Executive Incentive Scheme. We track progress and calculate bonus payouts using a combination of internal and independent external measures which include: HBF 8-week customer survey results; the number of NHBC claims; CQR scores conducted independently by the NHBC, and the average reportable items per inspection found during NHBC inspections at key stages of the build. We also integrate customer service and quality into the corporate bonus scheme for all employees.
Quality at every stage
Build
Build Quality Checklist: This is used by our site production teams to assess quality during construction. All items must be completed to the required standard before a home can have its HQI.
Product training: At the start of each new site or build phase, product suppliers train our sub-contractors, site managers and quality managers on the correct installation of their products to ensure a quality build.
Design
Our house types: We are rolling out our updated standard house which are designed to enable a consistent and simplified build process, with a standardised range of products and consistent features used. This supports our work on quality and makes it easier to train our teams and trade subcontractors. House type designs are reviewed by our Group safety team to ensure they are safe to build and live in.
Engage
Consistent Quality Approach (CQA): Our CQA guidelines ensure Site Managers, subcontractors, production and customer service teams have a consistent understanding of the finishing standards we expect on all our homes. We have published a customer version, to make it clearer to customers what they can expect from us. Most of our business units now have a 'CQA plot' on each site where colleagues and sub-contractors can see what our finishing standards look like in practice.
Scope of operations for subcontractors: Subcontractors play a key role in the build process. Our scope of works sets out our expectations for build quality and finishing standards. It is included in our framework agreement with subcontractors. We are integrating our Customer Service Policy into contracts to ensure sub-contractors deal with customer issues within agreed timeframes.
Inspect and audit
Photographic records: From 2023, in line with changes to Building Regulations, we will submit photographic records at key stages of the build process for review by an external SAP assessor. This aims to ensure that new homes are built to the standards outlined in regulations. We have added an additional internal review stage to this process, with the records reviewed by our site and quality managers. This will support our efforts to continually improve quality.
Product installation: Following the product training, product suppliers carry out an on-site inspection to ensure products have been installed correctly and safely.
Home Quality Inspection (HQI): Every home must pass our HQI, carried out by our customer relations managers, before the customer can move in.
Pre-handover inspection by NHBC (CML check): Every home must pass this inspection before the mortgage lender will release funds
External quality audits: The NHBC (which provides new home warranties) carries out independent Construction Quality Reviews for each site twice a year, as well as inspections at key stages of the build. These check the quality of our build against the NHBC standards.
Monitor and improve
Improvement plans: We set a quality improvement plan for any sites not fully meeting our quality targets and work with commercial, technical and production teams to implement the actions. To drive continual improvement we regularly raise the minimum threshold at which an improvement plan is required. Progress on each plan is reviewed monthly by our GMT.
Product quality and safety
When we specify a new product for use in our homes it must first go through a rigorous review process involving our safety, technical, sales, supply chain and production teams.
We assess whether it meets our technical performance requirements (such as performance, durability and longevity, warranty, efficiency and ease of installation), whether it is safe to install, maintain and use, and whether it can be procured in sufficient quantities. Our Functional Interface Group, chaired by our R&D Manager, oversees research and trials of new products.
The products we use in our homes are manufactured and tested in line with relevant British and European Standards. In addition, most products have also undergone a third party independent assessment in line with the NHBC Standards – Material Requirements.
Contractors working on our sites, principal contractors and design contractors must obtain third party H&S accreditation to demonstrate they have an adequate HSE management system, training process and risk assessment.
Employee and subcontractor training
Our quality training includes our Production Academy and training on our finishing standards for our Customer Relationship Managers. We also run regular online masterclasses. During 2023 we are training our production teams on the new requirement to create a photographic record at key stages of the build. We will be further developing our training and skills programmes to support the introduction of the Future Homes Standard.
Trade subcontractors are trained on the correct installation of key products to ensure a quality build and also attend training sessions run by our quality, site and safety teams, and by the NHBC.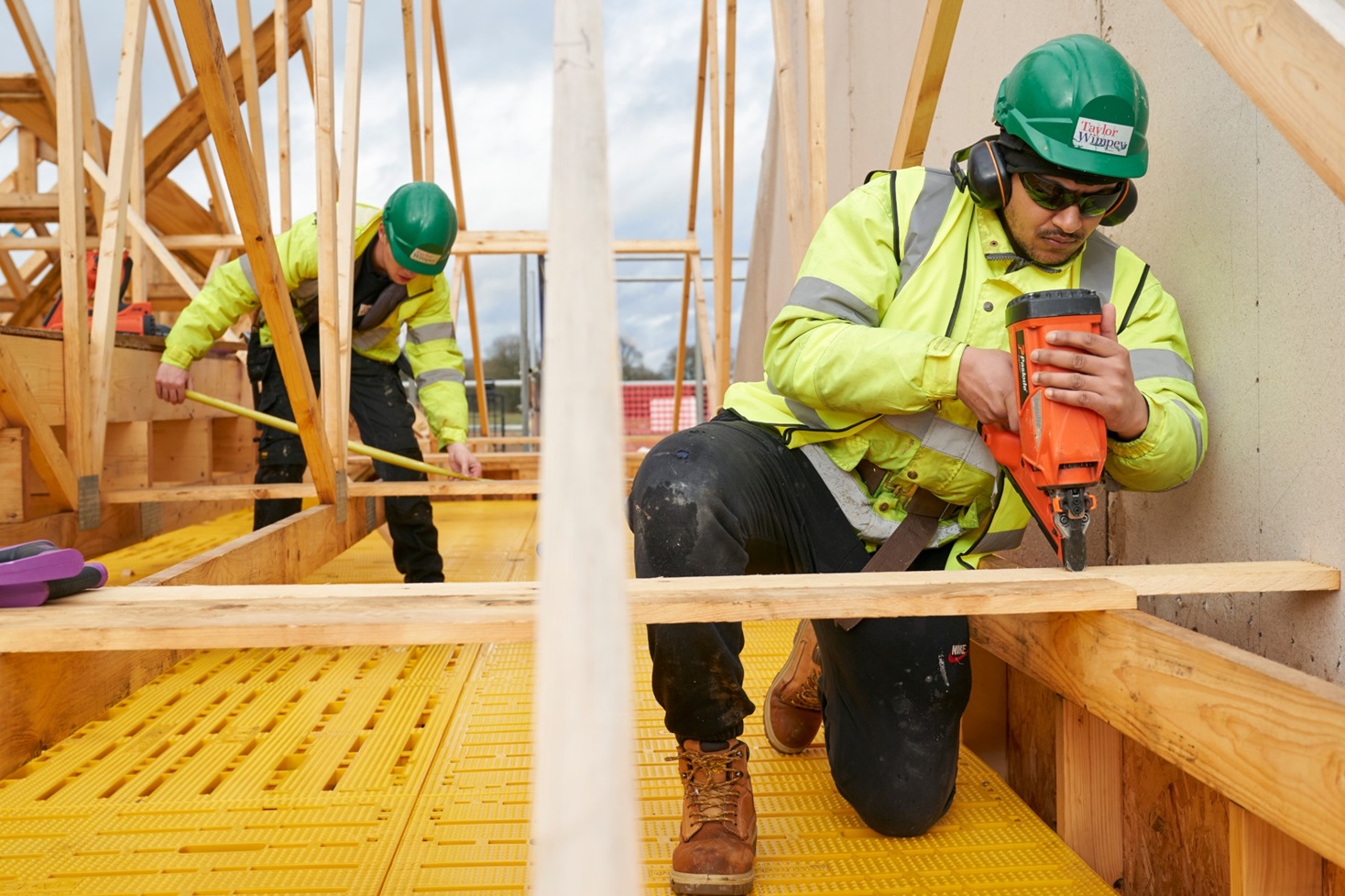 Upskilling through our Production Academy
We want to lead our sector on build quality and to create a learning culture in our teams. Our Academy of Production Excellence is helping us to build the skills of our workforce and enabling our Assistant Site Managers, Site Managers and Production Managers to gain formal job-related qualifications.
Participants complete an NVQ at the relevant level, from construction site supervision to construction senior management and technical courses developed by the NHBC and adapted to reflect our business. These cover the NHBC warranty, effective snagging, defects prevention, site environmental management, leadership skills, commercial awareness and project management. We've also integrated development programmes to support progress to more senior roles and enhance our succession pipeline.
The Academy supports our production teams to deliver the high-quality homes our customers expect. Other business benefits include improved employee engagement and retention by providing clear career and development pathways for production employees. Since the introduction of the Production Academy and other changes to our quality assurance processes we have significantly improved our CQR score, which is determined via independent NHBC inspections at key build stages.
There were 472 employees enrolled on the Academy of Production Excellence in 2022.
We use cookies to improve your experience and enable certain functionality. You may delete or block cookies from this site, but parts may not work. By clicking any link on this page you are giving your consent for cookies to be placed on your device. Read More Accept
Home
Corporate
Sustainability
Customers
Build quality
Ways to buy
Why choose us
Touchpoint
Contact us
Support
Corporate
Find your home
Jobs
News
Inspiration & guides
Buyer guides
Energy efficient homes
Land and planning
Our homes
Our reviews
Accessibility
Modern Slavery Act
Privacy policy
Sitemap
Terms of use