How to guides how to guides Making the most of home Tips to help you make the most of your living space
We're spending a lot of time in our homes and they've never felt more important. But our new lifestyle comes with challenges. Finding that work-life balance, dealing with distractions and managing new colleagues that bark or cry. Here are some tips to help you make the most of your living space.
1. Declutter and free up some space

An uncluttered space equals an uncluttered mind. Liberate your living areas by having a good clear out and giving yourself space to think and breathe. A few clever storage solutions can help, along with some reorganisation and tidying.

The trick is to keep out things you use regularly and put away others, according to Taylor Wimpey homeowner @ourhome_mystyle. Add various types of open and closed storage, drawers, hooks and baskets that make it easier to find what you need, when you need it.
2. Love every inch of your home

You'll naturally spend more time in parts of your home than others. That's pretty common no matter how big your house is, or how many rooms it has. But that means you're probably not making full use of the available space.

Unlock this potential by identifying underused spaces and allowing yourself to think creatively about how to transform them. Free up and bring dead space back to live with a few simple changes.
3. Create a sense of calm within the chaos Our homes are busy, family environments that can often feel chaotic. Added to that, many people are now working from home. Creating a work-free area is important, according to homebytwelve_.

Win at staying in by creating your own sanctuary. A comfortable and captivating space that you can escape to and unwind. Use different textures, subdued lighting and a soft colour palette to create tranquility and give you the headspace you need to help you relax.
4. Loosely zone your living spaces It can help to rethink your living space. Some rooms may have various uses, while others might be zoned off for specific activities. It's about separating work and play. It's when these crossover that you start to have problems.

Adapt your home into work spaces and living spaces, says homebytwelve_. The kitchen can cater for more than just cooking, but it's important to create at least one work-free zone and use that as an escape from the working day.
5. Add more light to your home Another tip from @ourhome_mystyle is to add more lighting to your home. Natural light is great for our wellbeing and helps to create a sense of space. But as evening approaches, it can help to look beyond your main ceiling lights.

Illuminate and create intrigue with different types of lighting. It can help to create smaller zones within a larger space. For example a reading corner, play area, or pop-up work space. Lighting is important to creating enjoyable and functional spaces.
6. Feel more connected with nature  Think of your garden as an extension of your living space. In the summer months, it can be a space for relaxation and al fresco dining. Again, this tip comes from @ourhome_mystyle, who has created two outdoor seating areas.

Feel more connected with nature and encourage your kids to go adventuring in the garden and play outdoors as much as possible. Make the most of your garden to make the most of your home.
7. Look to bring the outside world in Bring nature indoors by adding more houseplants. A touch of greenery will add depth and interest to your living spaces. They're also great for your health and wellbeing, especially if you choose ones that oxygenate the room.

A well chosen house plant can breathe new life into a room. Start with hardy and easy-to-keep house plants, or consider artificial plants for the same visual impact without the maintenance.
8. Lose yourself in your own home

Get creative with your living spaces. Remember that your home is anything you want it to be. You can sit perfectly still, but let your imagination run wild. Create spaces to indulge your interests and find freedom in your home by trying our new hobbies.

The same applies to your kids. Open a make-believe cafe, create a hideaway and encourage them to explore new worlds. Their toys will act as props, with their imagination filling the gaps.
9. Create daily routines and rituals Working or studying at home isn't always easy and there are distractions around every corner. You can manage these partially with zoning. Creating a workspace that's separate from everything else.

But the key really is routine. Have one for the home and try to stick to it as much as possible. Get up bright and early, and set yourself up to conquer the day. Give yourself little pockets of free time and always separate work from play.

10. Keep adapting your living space Your lifestyle changes over time, so it's important when choosing a new home to consider how you'll use it now and in the future. To make the most of the living space, it needs to be flexible enough to change and grow with your family.

When choosing a new home, @ourhome_mystyle says to consider the layout and use of the space, ensuring it's right for you. The aesthetics can be changed, but the configuration of the internal space is what's important.
Inspired? We're building new communities across the UK. Search now
Trends & Inspiration 2020 interior design trends Freshen up your look with our top 2020 interior design trends.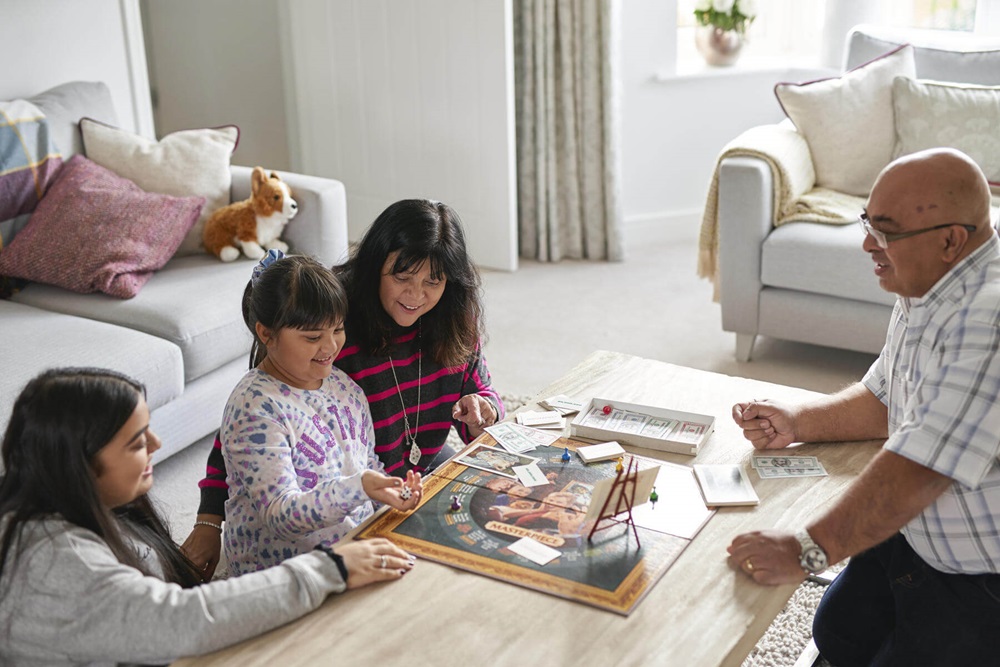 Inspire me How to guides Want to make your new house a home? Check out our how to guides for the latest tips from us.
Trends & Inspiration Soft interior design trends Keep your interior design soft this season with our guide to this cosy trend.
We use cookies to improve your experience and enable certain functionality. You may delete or block cookies from this site, but parts may not work. By clicking any link on this page you are giving your consent for cookies to be placed on your device. Read More Accept
Home
Inspire me
How to guides
Making the most of home
Ways to buy
Why choose us
In your area
Customer service
Get in touch
About us
Jobs
Corporate
News
Inspire me
Special offers
Help to Buy calculator
Buying guides
Our homes
Land and planning
Sitemap
Accessibility
Modern Slavery Act
Privacy policy
Terms of use