Sustainable homes and places
We build energy efficient homes in high quality developments where our customers can feel part of a community and enjoy a good quality of life. This is key to our purpose to build great homes and create thriving communities.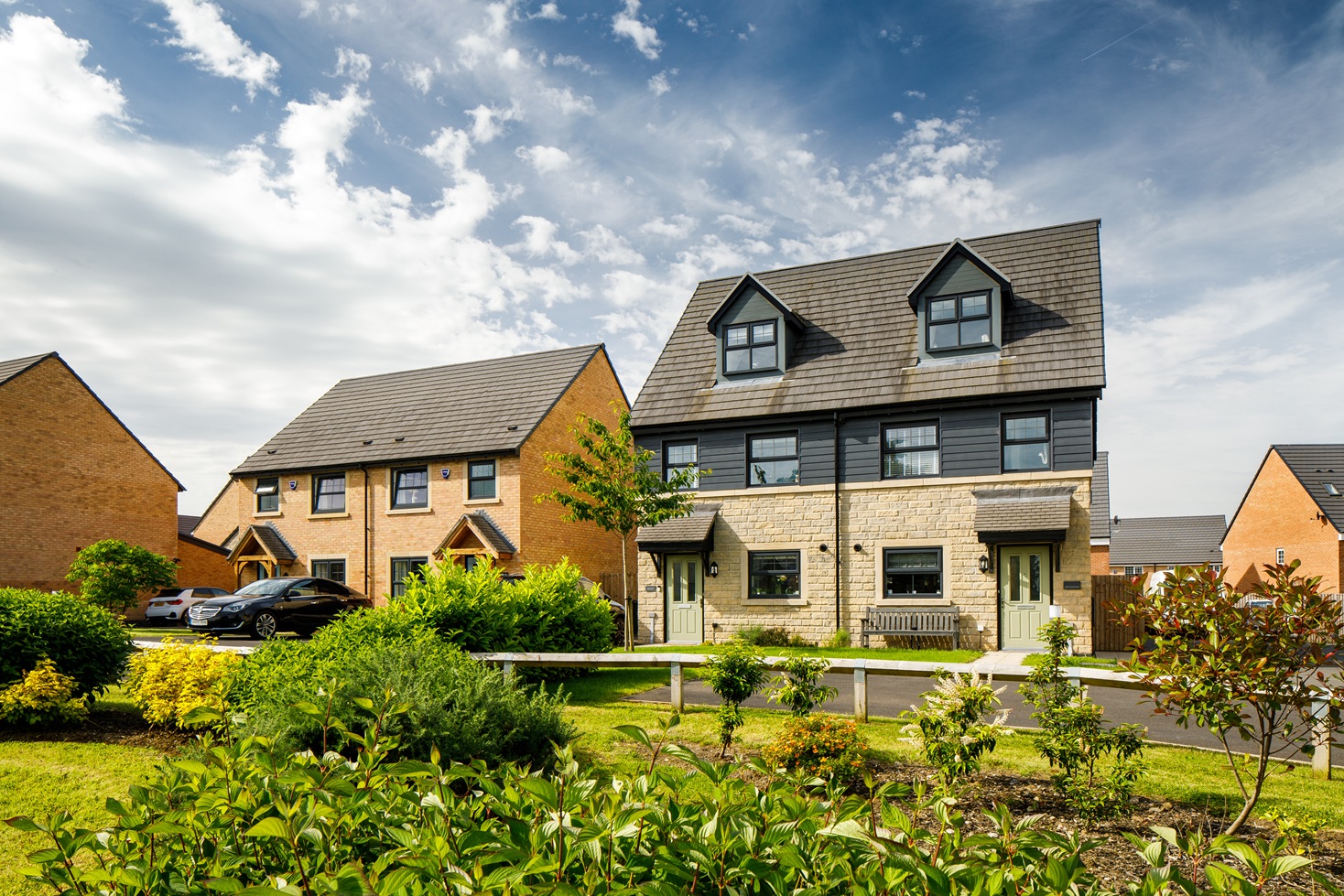 Read more about our approach to sustainable homes
Placemaking and design
We are equipping our teams to plan, design, layout and deliver schemes that create successful and sustainable new communities.
What does good placemaking look like?
Placemaking is about creating communities that are socially, environmentally and economically sustainable. We focus on these key principles. You can see some examples of our approach in the case studies section.
Schemes that are well connected and integrated into their surroundings

Layouts that are responsive to the context of the site, including topography, landscape, and existing buildings

Distinctive character and coherent, attractive and visually interesting elevations

Well defined streets and spaces with plenty of visual markers

Good walkable neighbourhoods that prioritise pedestrians and cyclists

Attractive public spaces

An interconnected network of green spaces and parks

Enhanced and improved biodiversity

Easy access to community facilities, such as shops, schools and workplaces

Well-designed homes and a mix of housing to suit local requirements

Efficient use of resources and land
Our placemaking standards
Our placemaking standards and guidance documents such as our Approach to Placemaking and Guide to Green Infrastructure are based on best practice, such as Building for a Healthy Life. They exceed standard requirements in areas such as efficient use of land, quality of public realm, connectivity and green infrastructure. Our standards are aligned with the National Design Guide and National Model Code.
Our Director of Design and Group Urban Designer work with our teams on placemaking. Both are qualified architects and urban designers. We have a Design Lead in each regional business and strategic land team to champion good design at the regional level.
Our approach to embedding our standards includes:
Engage and train
Our e-learning Design Academy covers the core principles of urban design and how to create sustainable communities. It includes 14 interactive online 10-minute modules covering: Good design, Our design process, Site appraisal, Design Concept, Appraising Character, Creating Character, Integration and Structure, Street Hierarchy, Designing Blocks, Key Buildings and Spaces, Frontages, Public Realm, Green Infrastructure, Car Parking. We also encourage our wider management teams to complete the training.

We run regular design surgeries, workshops and masterclasses to build competencies in our teams.

Our design conferences provide an opportunity to hear from external experts on placemaking and urban design topics. In 2022 this included the Parks Trust and Homes England.

Teams use our placemaking compendium, Building Blocks of Place, that includes practical advice and case study examples to help them implement our standards. Modules include plotting, parking, streets, details and perimeter block structure.
Self-assess
Our teams complete a placemaking self-assessment for new developments against our standards. This uses a traffic light system to help teams identify if improvements need to be made.
Review and improve
Our Group Design team has a monthly call with every business unit and conducts an in-process design review for all schemes to identify potential placemaking improvements at an early stage.
The proposed layout and design for all new developments must be signed off by our Director of Design (a qualified architect and urban designer) before it can proceed to planning application.
Recognise
Our annual Placemaking Competition recognises best practice in design and layout around the business. It received 27 entries in 2022.
Infrastructure and facilities
We fund a range of infrastructure and facilities on and around our development sites through our planning agreement obligations (Section 106 agreements in England and Wales, Section 75 agreements in Scotland, and Community Infrastructure Levy payments). These enhance our schemes and benefit the wider community.
In 2022, we contributed £455 million (2021: £418million) towards affordable housing; green spaces; community, commercial and leisure facilities; transport infrastructure; heritage buildings; and public art.
Our planning agreement obligations are negotiated with local authorities and reflect local needs, council policy and feedback gained through community engagement.
Active travel and sustainable transport
We aim to create walkable neighbourhoods where customers can enjoy an active, healthy lifestyle and make sustainable transport choices. This includes layouts that integrate paths and cycle routes that connect with existing networks and street design that encourages slower vehicle speeds and safer cycling conditions. We also invest in public and community transport, walkways and cycle paths through our planning obligations.
In 2022, 67% of our UK completions were within 500 metres of a public transport node and 90% were within 1,000 metres.
Our new standard house types include at least one study area with space for a desk and easy access to broadband and electricity sockets, to enable working from home. Many homes have integrated secure cycle storage. Around 9% had on-plot EV charging points (2021: 7%).
Promoting community connections
We aim to install infrastructure at an early stage of the build process to help the new community become established quickly. Our teams use our Community Communications Plan, which includes a range of recommended actions and activities for use throughout the development process to help foster a sense of community among new residents.
Our standard house types
Our standard house types are designed to be high-quality, energy- efficient homes that are cost-effective and safe to build. They can be adapted to reflect local character and scheme design and are used for the majority of our homes.
Inclusive and accessible homes:
We want our homes to be accessible to all potential customers, including those with reduced mobility. The majority of our new house types offer improved accessibility, in line with the optional requirements in Building Regulations Part M (4)2. This means they are suitable for a range of potential occupants, including people with reduced mobility and some wheelchair users. Around 60% of homes planned in the last year already meet this standard and we expect this to increase to 90% over the next five years as we roll out our new house types. We also have six house types designed to be fully wheel-chair accessible.
External partnerships:
We work with many organisations on placemaking to share our views and learn from the expertise of others. In 2022, organisations we engaged with included the Academy of Urbanism, BOB-MK (a design network for Berkshire, Oxfordshire, Buckinghamshire and Milton Keynes), Design for Homes, Future Homes Hub Place and Nature workstream, Home Builders Federation, Homes England, Department for Levelling Up, Housing and Communities, Royal Institute of British Architects, Royal Town Planning Institute and the Urban Design Group.
We use cookies to improve your experience and enable certain functionality. You may delete or block cookies from this site, but parts may not work. By clicking any link on this page you are giving your consent for cookies to be placed on your device. Read More Accept
Home
Corporate
Sustainability
Sustainable homes and places
Ways to buy
Why choose us
Touchpoint
Contact us
Support
Corporate
Find your home
Jobs
News
Inspiration & guides
Buyer guides
Energy efficient homes
Land and planning
Our homes
Our reviews
Accessibility
Modern Slavery Act
Privacy policy
Sitemap
Terms of use