Our approach Sustainability Integrating sustainability into our developments Many of our developments are planned in a way that encourages or supports community, environmental sustainability and economic vitality.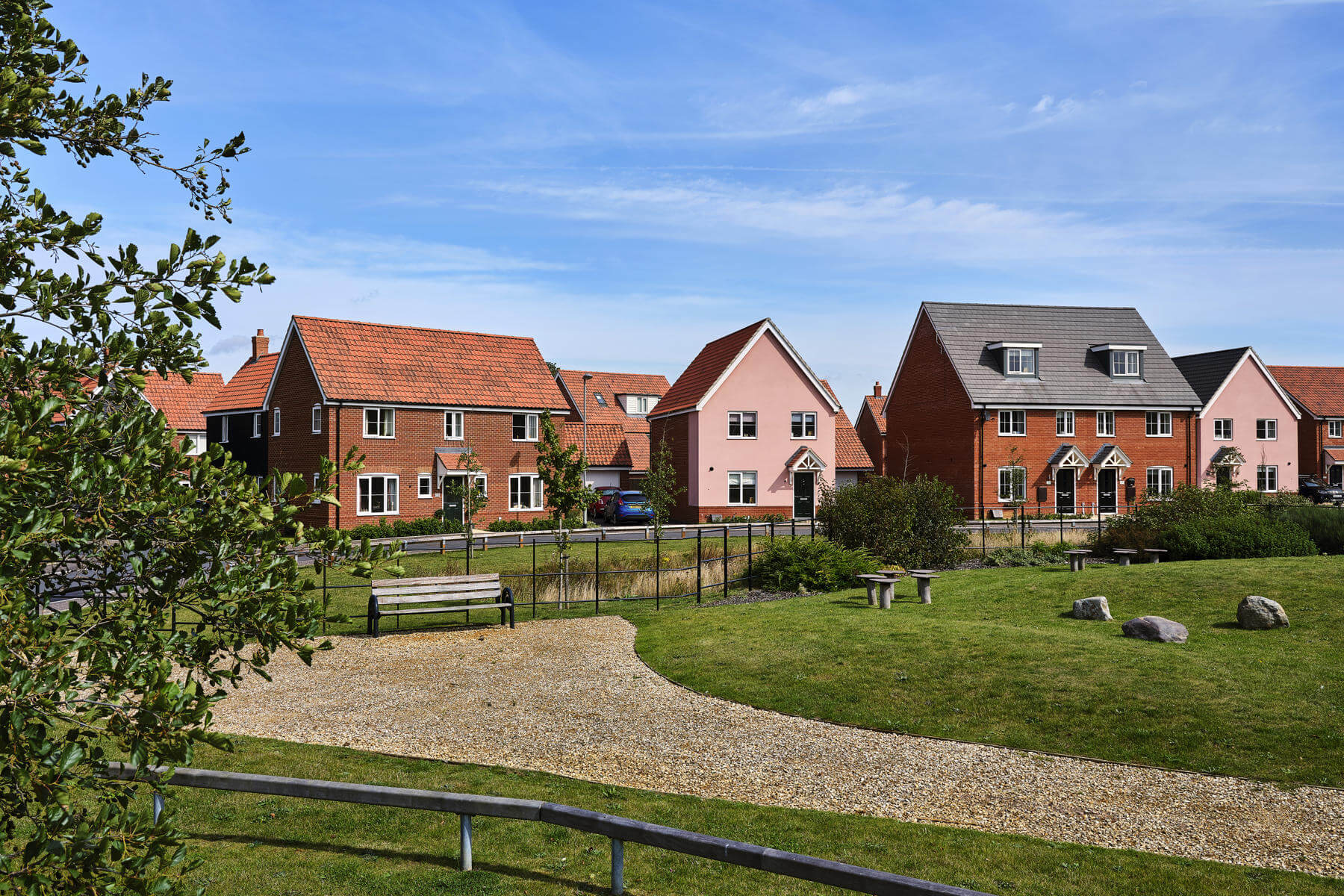 Energy and water efficiency

Our house types include a range of sustainable design features ranging from highly energy efficient walls and windows, to insulated loft space. This reduces running costs for our customers and helps cut carbon emissions.

Inside our homes we use energy efficient fixtures and fittings, including 100% low energy light fittings and LED recessed down lights. All appliances that we offer as standard options in our homes are at least A rated for energy efficiency.

Through our Project 2020 research initiative we are testing a number of sustainable build technologies including off-site construction techniques such as timber frame and cross-laminated panels with wood fibre insulation and Mechanical Ventilation with Heat Recovery systems. We will be reviewing the findings during 2019.

Examples of developments with environment features include Battersea Exchange, a vibrant new, mixed-use community in Central London. All 290 homes are highly energy-efficient and the whole development is BREEAM certified.

All properties at our Chobham Manor development in Stratford will offer reduced energy consumption, plus secure and controllable natural ventilation. The homes will also be connected to a low carbon heat network and a minimum of 20% of construction materials by value will be from recycled or sustainable sources.

All new Taylor Wimpey homes have water meters fitted, as well as low flow taps and showers, and dual flush toilets. Some developments include additional water saving features such as rainwater harvesting, reflecting local authority priorities. Examples include rainwater harvesting for use on external landscaping at Greenwich Millennium Village.
Placemaking and design
Health and wellbeing
Enchancing ecological value

We integrate green infrastructure into our sites including parks, playing fields, woodlands and gardens, sustainable drainage features and planting, alongside roads and streets. This helps create a strong sense of place, supports water management, reduces flood risk and helps to enhance biodiversity.

We launched our Guide to Green Infrastructure in 2018, which incorporates recommendations from the Wildlife Trust. It aims to support our teams to plan and implement effective green infrastructure that supports biodiversity. Next we are developing a Home for Nature Toolkit, a compendium of practical measures which can be implemented on our sites to enhance biodiversity.

Recent examples include our site in Stepps, West Scotland, where we have improved local marshland, with the creation of new ponds and channels and refuge areas for amphibians, as well as bird and bat boxes and a new butterfly meadow and bare ground areas. Two nature trails have been added to encourage residents to get out and enjoy the natural environment. The site also includes amphibian tunnels under the new roads, enabling frogs, toads and newts to migrate safely from the marshland to the neighbouring loch.

At Cambourne, six hectares of new lakes and wetlands were created providing areas for recreation and bringing new species of birds, mammals and insects onto the site. At The Chilterns development we have incorporated wildlife-friendly planting such as mature trees and native shrubs. And at Chase, in partnership with the Wildlife Trust, we developed a comprehensive landscape strategy to enhance its nature conservation value.

Brown and green living roofs have vegetation planted or allowed to grow on them. They provide a range of benefits including reducing stormwater run-off and wildlife habitats. Our City Mills development in London is being built with green and brown roofs, our Chobham Manor development is integrating brown roofs and green walls and Academy Central in London also includes green roofs.
Green travel
Community networks

Our developments can provide a boost to the local economy through new housing, new jobs on site and in the supply chain, increased revenues for local businesses and investments in new infrastructure and amenities such as shops, doctors' surgeries, cafes and other facilities.

For example, our development at Sherford – a new county town for Devon with 5,500 homes - will create business and commercial opportunities worth an estimated £2 billion to the local economy. This includes 400 jobs during the build and around 5,000 after completion, in the new shops, businesses, schools and community facilities of the new town. We are one of three partners in the Sherford Consortium. The Sherford Skills Training Scheme is boosting local skills and providing apprenticeships.

At our Keynsham development in Somerset we are working with suppliers and Bath College to provide opportunities for young people to gain valuable work experience. This includes apprenticeships as well as educational site visits and work placements for local students.

We work with many small and medium sized (SME) businesses providing labour and services, including suppliers that are local to our sites. This can boost the local economy and can also bring beneficial diversity into our supply chain. Recent examples include our Chobham Manor site in East London, where at least 28% of the on-site workforce is recruited from the four neighbouring boroughs. We have also run 'Meet the Buyer' events for local SME businesses to meet our commercial team and learn how to apply through our tender processes.
Promoting local economic developement
Protecting our heritage
Public art

Planning agreement contributions regularly include public art. Recent examples include several public art works installed at our Battersea Exchange development in central London.

At our Pennington Wharf development in Wigan, we have celebrated the town's mining history with a new art installation honouring miners who lost their lives in the local pit.
We use cookies to improve your experience and enable certain functionality. You may delete or block cookies from this site, but parts may not work. By clicking any link on this page you are giving your consent for cookies to be placed on your device. Read More Accept
Home
Corporate
Sustainability
Our approach
Integrating sustainability into our developments
Ways to buy
Why choose us
In your area
Customer service
Get in touch
About us
Jobs
Corporate
News
Inspire me
Special offers
Help to Buy calculator
Buying guides
Our homes
Land and planning
Sitemap
Accessibility
Modern Slavery Act
Privacy policy
Terms of use