Integrating sustainability into our developments
Our purpose is to build great homes and create thriving communities. We focus on improving environmental performance, fostering community networks, supporting local economic activity, and helping customers adopt a more sustainable lifestyle.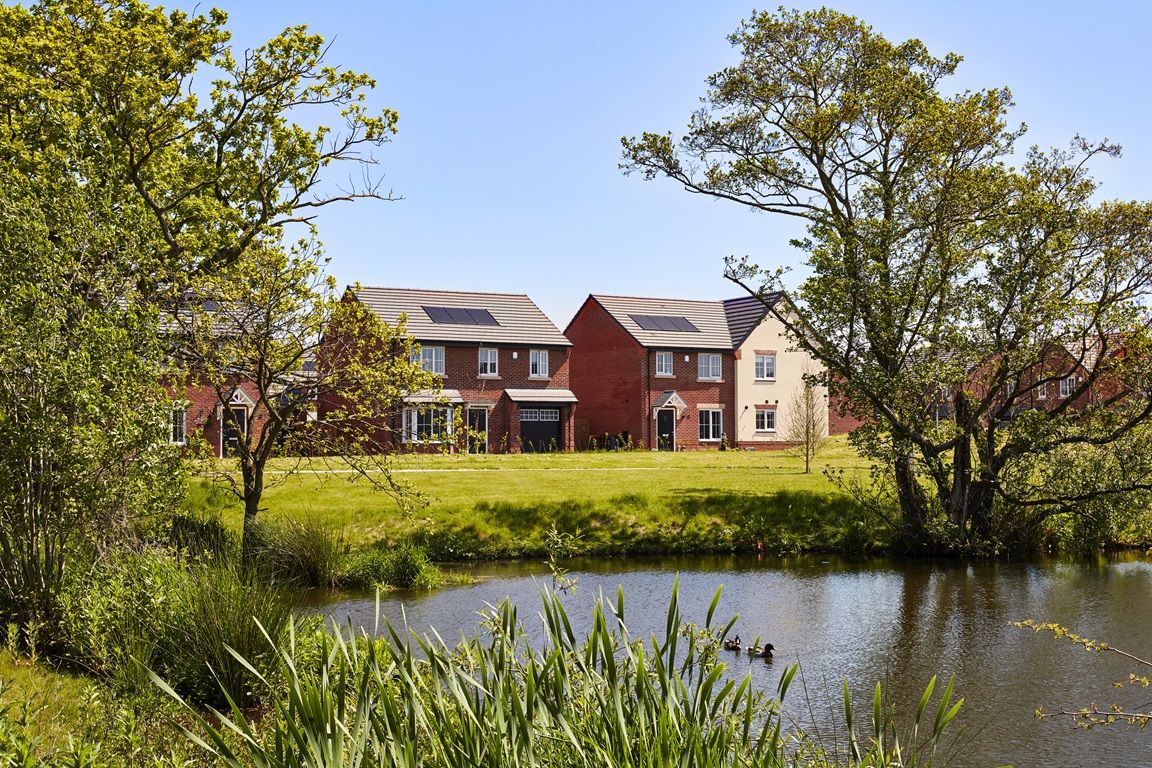 Energy efficiency

Our homes are well insulated and integrate energy-efficient walls and windows, 100% low energy light fittings, LED recessed downlights, and energy efficient appliances. Around 16% of our homes also integrate on-site renewables such as photovoltaic (PV) panels. These features reduce running costs for our customers and help cut carbon emissions. Research by the HBF shows that buyers of new homes can expect to save around £2,600 a year in energy bills when looking at new and old houses alone.*

Examples include:

• At Calderwood East Scotland all our new homes integrate solar PV panels. We've also teamed up with solar panel manufacturer on a reforestation initiative to plant trees in Scotland and Africa.

• Battersea Exchange, a vibrant new, mixed-use community in Central London. All 290 homes are highly energy-efficient and the whole development is BREEAM certified.

• Our Coronation Square development of 750 new homes in Leyton, East London will include solar PV panels and a new district heating network (combined heat and power) with capacity for 2,250 new homes.

All our customers receive a Home Demonstration which covers the sustainability features of their new home including the energy efficient heating system, and where relevant, smart thermostats. We also give all our customers details on how to use and maintain the environmental features in their homes through our Maintenance Guide and Touchpoint Portal. We've trained our sales teams to discuss environmental topics with our customers.

*Source: New build houses save homeowners £2,600 in annual energy bills
Water efficiency

All new Taylor Wimpey homes have low flow taps and showers, and dual flush toilets water and, in England and Wales, all homes have water meters fitted. Some developments include additional water saving features. For example, we have trialled and evaluated greywater systems at our Leybourne Chase site and used them at Great Western Park in Didcot.

Our Torrance Park Water Project, in Motherwell, Scotland, was designed to encourage the development of sustainable places and water management. This included installation of rain gardens, academic research, and provision of 80 free water butts for new homeowners, as well as awareness raising among residents and the wider housebuilding industry. We also partnered with the Scottish Government on the 'Greener Gardens' project looking at how gardens of new homes can be used to contribute to green infrastructure, biodiversity and storm water management. We funded two years of research by Abertay University into how source control SUDS in new housing developments can contribute to storm water management and reduce downstream flooding. As part of this we installed a trail sustainable urban drainage system called a 'SUDSbox' in the show home to assess its impact on pluvial flooding.
Placemaking, design and wellbeing We are equipping our teams to plan, design and deliver schemes that promote social, environmental and economic sustainability, and the wellbeing of future residents. We aim to encourage walking and cycling and to enable residents to adopt healthier lifestyles by integrating nature and green spaces, as well as access to leisure facilities. Inside our homes we consider factors such as noise, natural light, air quality and preventing overheating.


Our placemaking standards are based on best practice, such as the Building for a Healthy Life standard. We focus on:

- Schemes that are well connected and integrated into their surroundings

- Layouts that are responsive to the context of the site, including topography, landscape, and existing buildings

- Distinctive character and coherent, attractive and visually interesting elevations

- Well defined streets and spaces with plenty of visual markers

- Good walkable neighbourhoods that prioritise pedestrians and cyclists

- Attractive public spaces

- An interconnected network of green spaces and parks

- Enhanced and improved biodiversity

- Easy access to community facilities, such as shops, schools and workplaces

- Well-designed homes and a mix of housing to suit local requirements

- Efficient use of resources and land

We estimate that well over 90% of our schemes contribute to community infrastructure such as public open spaces, schools, and leisure and sporting facilities.

We were involved in the Healthy New Town initiative which brought together the NHS, homebuilders, local government, universities, technology companies and other stakeholders to plan and build healthier places.

We often integrate features into our sites to encourage residents to engage with nature and the outdoors. For example, our site at Stoneley Park near Crewe includes a community orchard and allotments. We've also installed beehives on developments across three business units.
Sustainable materials and construction techniques

We aim to use more sustainable and recycled materials in the homes we build, to reduce waste from our sites and to adopt modern methods of construction that can improve efficiency and reduce environmental impacts.

We are engaging with our national suppliers, who provide strategically important products and materials such as bricks, doors, sanitary ware and kitchens. Results from this process show that: 53% of suppliers are integrating recycled materials into the products supplied to us, 33% are supplying Cradle to Cradle certified products and 27% are supplying products certified to the responsible sourcing standard BES 6001.

Examples of more sustainable products and materials include:
Our glass mineral wool insulation supplied by Knauf, is made from recycled glass bottles. The equivalent of around 8.2 million wine bottles were used to create the insulation for our homes in 2022.
Around 95% of timber supplied by Group suppliers is FSC or PEFC certified.
Some of our sites are using 100% recycled aggregates and 75% recycled concrete blocks supplied by Sheehan Group.
Our site in Stanport in West Midlands is using crushed concrete for road bases and pipe bedding, reducing waste.
At our Sherford site, demolition waste is being recycled and reused and the site is also working with a local quarry to supply recycled aggregates reducing lorry journeys.
We have added information and advice to our Maintenance Guide and Touchpoint Portal to help customers maintain good internal air quality at home.
Modern methods of construction
We use off-site construction techniques which can improve the performance of finished homes. Around 90% of our homes use off-site components such as spandrel panels, smart roof panelised cassette roofs, cassette timber floors and prefabricated porches, canopies and dormers. Almost 18% of our completions use timber frame, another off-site construction technique.
Enhancing ecological value

We want to improve access to nature for customers and communities by regenerating the natural environment on our sites. We also integrate green infrastructure into our sites including parks, playing fields, woodlands and gardens, sustainable drainage features and planting. This helps create a strong sense of place, supports water management, reduces flood risk and helps to enhance biodiversity. From 2021, all our new sites include our priority wildlife enhancements such as hedgehog highways, bee bricks and bug hotels. In 2022, we installed 2,514 bee bricks and bug hotels and 1,091 bird boxes and bat boxes on our sites. 151 sites included hedgehog highways.

Recent examples include:
Our Thornbury Green development in Eynsham includes routes for hedgehogs to travel between habitats, including hedgehog holes in garden fences, and the planting of trees, shrubbery and a grassland area to provide food for insects and birds. The site will also include nest boxes for swifts and house sparrows on some homes.
Taylor Wimpey East Anglia has worked with Action for Swifts to incorporate Swift bricks into the exterior walls of 85 new homes at the Burghley Green development, in Cambourne. More S Bricks are planned for Varsity Grange, in Northstowe.
Our Royal Parade scheme near Canterbury, includes an 11-acre Legacy Park. This has a number of paths and trails, all surrounded by natural habitats designed specifically for wildlife, such as dormice and other indigenous species.
At our site in Stepps, West Scotland, we have improved local marshland, with the creation of new ponds and channels and refuge areas for amphibians, as well as bird and bat boxes and a new butterfly meadow and bare ground areas. Two nature trails have been added to encourage residents to get out and enjoy the natural environment. The site also includes amphibian tunnels under the new roads, enabling frogs, toads and newts to migrate safely from the marshland to the neighbouring loch.
At our Chase site, in partnership with the Wildlife Trust, we developed a comprehensive landscape strategy to enhance its nature conservation value.
At our Harts Mead site, all existing trees = have been retained and bird boxes, bat boxes, hedgehog houses and bug hotels installed. The site includes a 'Nature Ark', a multi-habitat unit designed to accelerate habitat growth and benefit butterflies, bees, hedgehogs and invertebrates.
We're encouraging customers to adopt nature-friendly gardening techniques. We've added user-friendly guides on our website, including tips from our partners Hedgehog Street and Buglife. In 2022, we distributed 2,195 welcome packs to customers with wildflower seeds, bug hotels and products to help them create nature friendly gardens.
Our Lockside Wharf development in the West Midlands has created nature-friendly show home gardens to demonstrate to homeowners what can be achieved. Garden features include bug hotels, log piles for amphibians, bird boxes and a timber sleeper tiered herb garden. The development will also feature a community orchard.
Green travel

We aim to design walkable neighbourhoods that prioritise pedestrians and cyclists and where customers can enjoy an active lifestyle and make sustainable transport choices. Our placemaking standards encourage layouts that integrate paths and cycle routes that connect with existing networks and street design that encourages slower vehicle speeds and safer cycling conditions.

We invest in public and community transport, walkways and cycle paths through our planning obligations and aim to install this infrastructure at an early stage.

For example, at our Cambourne site a network of footpaths, cycleways, and bridleways links the residential areas with the local centre and the green spaces. This reduces the need for local car journeys. At Greenwich Millennium Village, residents can take advantage of the car club scheme as well as on-site bus stops and cycle paths, and a short walk to the local tube station. In Shieldmuir Scotland, we have built a new park and ride facility.

In 2022, 67% of our UK completions were within 500m of a public transport node and 90% within 1,000m. Around 9% had on-plot EV charging points and around 19% had secure cycle storage.
Community networks

When moving into a new home, people want to quickly feel part of a thriving community. However, it can take time for social networks to establish on new developments. We're exploring how we can accelerate this process.

At our Pennington Wharf development in Manchester, we've been exploring how we can help to foster community connections and support the wellbeing of residents. We provided an enhanced community centre (hub) at the site including a yoga room, kids play area, outdoor facilities and community noticeboard. One of our colleagues worked as a community champion one day a week, helping to organise events, communicate with residents and promote connections. We also rolled out an enhanced digital communications programme using Facebook, text messages, email and a website to keep residents up to date with site news, promote events, and encourage people to get involved in community activities. We assessed the impact using customer research and early findings suggested that the approach can help to foster connections.

At our Leybourne Chase site in Kent we have funded a community development worker to help set up the Community Development Trust and foster connections between residents and community organisations. This has included providing free space and empowering and assisting residents to set up new community groups that bring local people together. These now include a regular 'Knitter natter' session, a community playgroup, and a weekly youth club. The ideas for these groups were all put forward by local people, reflecting their needs.

In Sherford, Devon, community engagement has been a priority throughout. The plan for Sherford was generated through an Enquiry by Design process, bringing together many different stakeholders including residents, developers, county and local authority officers, health, education, police and other service providers, wildlife groups and environmental agencies. A Community Trust and Residents Association have been established and a resident liaison officer appointed.

Promoting local economic development

We aim for our developments to provide a boost to the local economy, both during construction and once new residents move in. This can include providing opportunities for local businesses, investing in local facilities such as shops, doctors surgeries, schools and community centres and ensuring our developments are well linked to existing infrastructure and facilities.

We quantify the direct and indirect socio-economic impacts of our developments using our Economic Benefits Toolkit. Recent examples include:

• East Leeds Extension (Middle and Southern Quadrants). This scheme will help Leeds City Council meet their locally assessed housing needs, with 1,812 new homes of which 15% are affordable. It will create 530 jobs in construction, 800 in the supply chain, and a further 33 from new retail and education uses. The local authority is expected to gain £2.5 million in Council Tax revenues and £45,000 in new business rates payments from 280m2 of new retail floorspace. Local businesses will gain from expected resident expenditure of £34.1 million a year.

• Birkhill Avenue, Bishopbriggs. A development of 225 new homes is expected to bring a number of economic and community benefits including £4.1 million GVA contribution to the local economy each year. The scheme is expected to create 57 direct, 87 indirect and 48 supported jobs, and £5.8 million in annual expenditure by new residents.

• Kirkliston in Edinburgh. A development of 300 new homes which is expected to generate £5.2 million in GVA contribution as well as £7.7million in annual resident spend. The scheme is expected to create 73 direct, 111 indirect and 64 supported jobs.

• Our development in Leyton, London will create approximately 200 long-term full-time jobs across a range of sectors, as well as construction jobs for the area including 38 training placements. The site will include a new market square that will host markets and public events, new cafes, shops and restaurants, as well as a new sports hall, early years nursery and an NHS medical hub with space for 20 GPs. There will be retail and commercial space for existing and start-up businesses.

We work with many small and medium sized (SME) businesses providing labour and services, including suppliers that are local to our sites. This can boost the local economy and can also bring beneficial diversity into our supply chain. Recent examples include our Chobham Manor site in East London, where at least 28% of the on-site workforce is recruited from the four neighbouring boroughs. We have also run 'Meet the Buyer' events for local SME businesses to meet our commercial team and learn how to apply through our tender processes.
Social impact

We aim for our developments to have a positive social impact and we support local and national organisations that are working to address social challenges.

One example is our work with St Mungo's to build skills and tackle homelessness by supporting its Construction Skills Programme. This helps people recovering from homelessness to gain new skills and qualifications, build their confidence and find employment in the construction industry. Our donation of £132,000 in 2021 directly supported two Construction Skills Tutors working in the St Mungo's Construction Skills Training Centres in Brent and Camden running training in areas such as painting and decorating, plumbing, lock fitting, tilling, dry lining and bricklaying. We're now donating £315,000 over three years that will help train around 40 clients per year.

Each of our business units has a fund that it can use to donate to community organisations in areas local to our sites from schools, to charities and sports clubs. You can read about these here.

Every one of our developments has a life-saving defibrillator and we donate this to the community when construction finishes.
Protecting our heritage

We aim to integrate historic buildings and other unique local features into our developments – this enhances local character and contributes to good placemaking. Recent examples include our Howe Barracks site where three original buildings: the gymnasium, the chapel and the small arms trainer, will be handed over to a management trust for community events and activities. At our Diglis Water site, three buildings with strong ties to the area's waterways heritage have been retained and restored - the stablemaster's house and two boat houses. One of the boat houses has been kept for its original purpose while the remaining buildings are for commercial and retail use.

We carry out archaeological explorations to ensure that the history of our sites is protected and recorded. For example, at our site in Shaw Valley near Newbury, archaeologists have recently identified a Bronze Age barrow monument.

In our South Thames region we have been working with archaeologists and the county council to excavate two historic gunpowder mills uncovered near our Riverside Mill development in Worcester Park. The mills, which are thought to date as far back as the 18th century, would have initially produced gunpowder for private and government order. Some of the items excavated from the site will go on display at the development including one of the original millstones.
Public art Planning agreement contributions regularly include public art. Recent examples include several public art works commissioned for our Leyton development in East London.


At our Pennington Wharf development in Wigan, we have celebrated the town's mining history with a new art installation honouring miners who lost their lives in the local pit. At our Gilden Park development in Harlow, we have commissioned a modern sculpture by a local artist. The sculpture will contribute to Harlow's reputation as a 'sculpture town', with over 100 public art works throughout the area, which form walking and cycling trails for residents and visitors.

A ceramic wall installation at Houghton Regis celebrates local landmarks along the famous Chiltern Way and historic Icknield Way.
We use cookies to improve your experience and enable certain functionality. You may delete or block cookies from this site, but parts may not work. By clicking any link on this page you are giving your consent for cookies to be placed on your device. Read More Accept
Home
Corporate
Sustainability
Our approach
Integrating sustainability into our developments
Ways to buy
Why choose us
Touchpoint
Contact us
Support
Corporate
Find your home
Jobs
News
Inspiration & guides
Buyer guides
Energy efficient homes
Land and planning
Our homes
Our reviews
Accessibility
Modern Slavery Act
Privacy policy
Sitemap
Terms of use