Home TAYLOR WIMPEY Not all housebuilders are equal
New homes as they should be. Find your new home now Location, postcode or development name Search
Here's why we're different...
Dedicated customer service Our Trustpilot score Building a better world Creating better communities
Dedicated customer service From people who really care. Helping you find your perfect home and enjoy a move with less stress.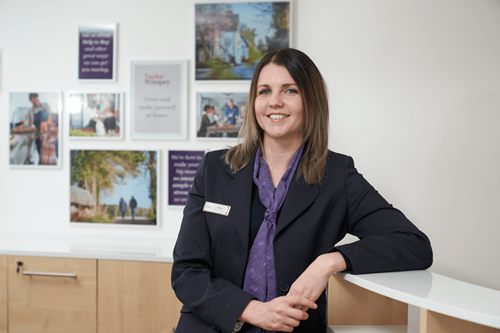 Straightforward home buying Our team of experts are on hand to help make your home buying journey easy and answer all your questions. In 2019 over 1,400 employees took part in training at our Academies of Excellence for Customer Service, Sales and Construction. Every team member is highly trained and goes all-out to give you a special experience.
Making life easier with clever tech Relax and take a virtual showhome tour or jump on a video call with our Sales team from the comfort of your own living room. Over 15,000 customers used Touchpoint in 2019; our unique online portal which allows you to follow build progress, choose interior options and visualise how your new home will feel to live in.
 Whatever support you need, we're here You'll be able to meet your Site Manager and take a home demonstration tour before your special move in day. Once you're settled in, our Customer Service team will call to check on your new home with you. We also have skilled tradespeople to hand, so you can have confidence that in the unlikely event there are any issues with your new home, we'll be there to fix them.
Most recommended on Trustpilot* Don't just take our word for it, take theirs.
You can trust our industry-leading build quality From the first time you enquire about a development, tour a showhome, or select your new home and add personal touches, you'll notice our attention to detail. Our customer satisfaction score*** is a proud testament to the level of attention to detail and quality. We're totally committed to helping you every step of the way.
Using customer feedback to do the best job possible We're so confident in our service that we welcome Trustpilot reviews from all customers. Listening to your feedback and making sure you're happy helps us to improve our service and allows us to continue leading the industry.
An exceptional level of care We're proud to have the highest build quality score of any large housebuilder as measured across all of our developments by the NHBC**. Our team carries out hundreds of detailed quality checks on each home to help ensure your new home is exactly as you expect from the moment you walk through the door.
Creating better communities to call home Investing in the local area and helping communities come together.
Creating places that bring people together Each new community is designed to be easy to live in. We consider how you'll access local amenities and facilities like shops and schools, whether they're part of the new or existing community. Green spaces and parks are often used to encourage pedestrians and cyclists to explore their surroundings, and help community spirit thrive.
Investing in the areas where we build We build amenities and facilities as early as possible in the development process, so you can feel at home as quickly as possible. In 2019 we invested £447 million in local communities to fund improvements and build new facilities, creating places where people want to live.
Looking after local causes  Our teams regularly donate both time and money to local schools, charities, and sports and community groups. Support during the coronavirus pandemic has included fundraising of over £70,000 for the NHS, Crisis, and Childline, and the donation of over 120,000 surgical masks and 75,000 pairs of gloves to local medical and care facilities. 
Building a better world Playing our part in creating a greener home for us all.
Making significant progress in our carbon reduction  Building responsibly and taking care of our environment is important to us all. We've worked hard to reduce direct carbon emissions intensity by 43% since 2013 and 97% of our construction waste is now recycled. But we're not stopping there, we're working hard to do even better.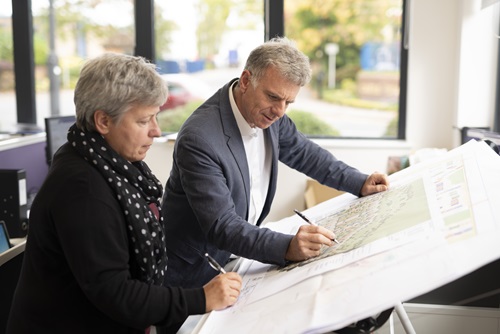 Carefully considered designs to make homes energy efficient Sustainable features can be seen throughout our homes, from high quality insulated roofs, walls, and windows, through to A-rated energy-efficient appliances. Our new build homes come with a smaller carbon footprint than an equivalent second-hand property, which means lower energy bills for you.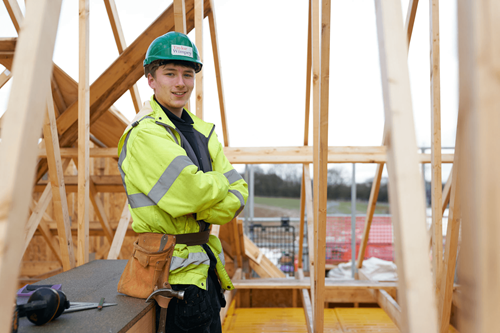 Investing in the next generation of homebuilders Our paid apprenticeships give our apprentices hands-on development and support across a whole range of skills. We're proud to have recruited 382 apprentices in 2019. By supporting a young person's career, it makes our future team even stronger.
New homes as they should be Find your new home now Location, postcode or development name Search
The small print

* Taylor Wimpey has the highest number of excellent reviews on Trustpilot compared to other FTSE 100 listed house builders, with over 1850 as of 21/05/2020.

** Based on the CQR score which is an independent NHBC quality check at key stages throughout the build process.

*** Result taken from the annual industry customer satisfaction survey published by the House Builder Federation.
We use cookies to improve your experience and enable certain functionality. You may delete or block cookies from this site, but parts may not work. By clicking any link on this page you are giving your consent for cookies to be placed on your device. Read More Accept
Home
New homes as they should be
Ways to buy
Why choose us
In your area
Customer service
Get in touch
About us
Jobs
Corporate
News
Inspire me
Special offers
Help to Buy calculator
Buying guides
Our homes
Strategic land
Sitemap
Accessibility
Modern Slavery Act
Privacy policy
Terms of use